Nestled in the heart of Syracuse, New York, the Everson Museum of Art stands as a testament to the power of creativity and human expression. Founded in 1968, this iconic institution has been a beacon for art enthusiasts, showcasing a diverse range of works that span centuries and cultures. In this blog post, we will delve into the rich history of the museum and provide an overview of its current exhibitions, offering a glimpse into the captivating world of art housed within its walls.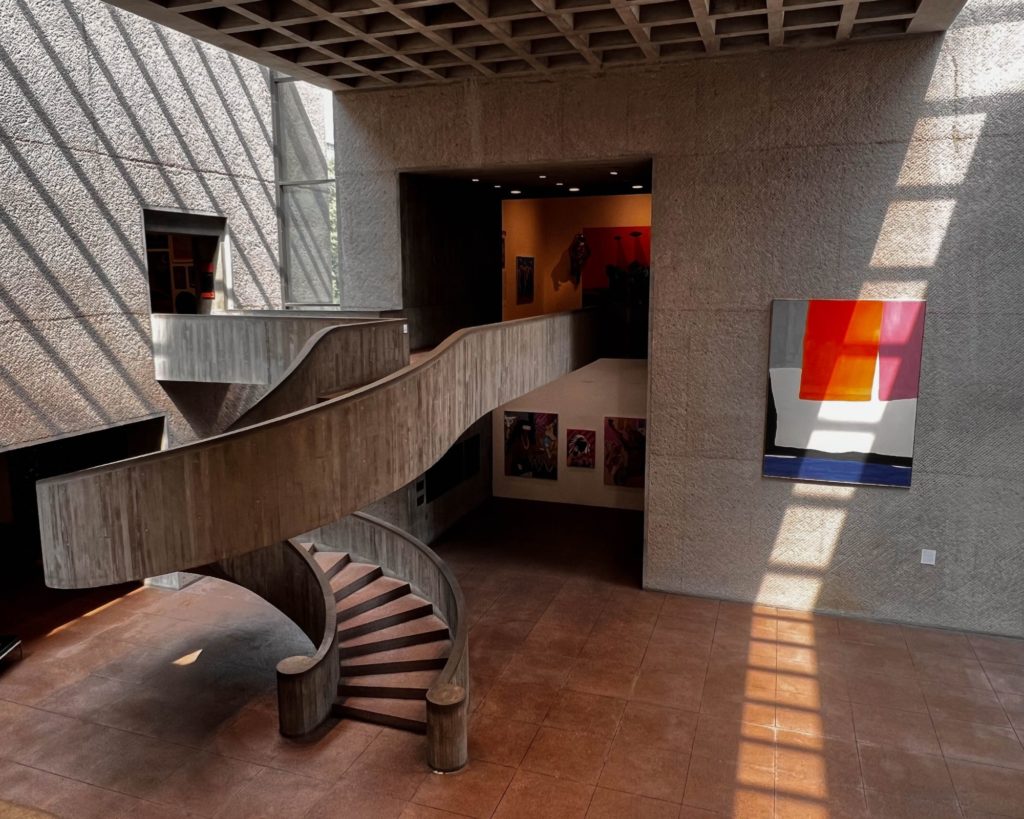 The Everson Museum of Art owes its name and existence to benefactor and visionary, Helen Everson. Her generous donation of art, along with funding for the construction of a suitable museum, laid the foundation for what has become an indispensable cultural hub in Syracuse. Architect I.M. Pei's innovative design, with its iconic cantilevered structure and use of concrete, solidified the Everson Museum as a groundbreaking architectural achievement.
The museum's permanent collection boasts an impressive array of artworks, ranging from American ceramics to cutting-edge contemporary pieces. Notable artists represented include Jackson Pollock, Louise Nevelson, and Yoko Ono, among many others.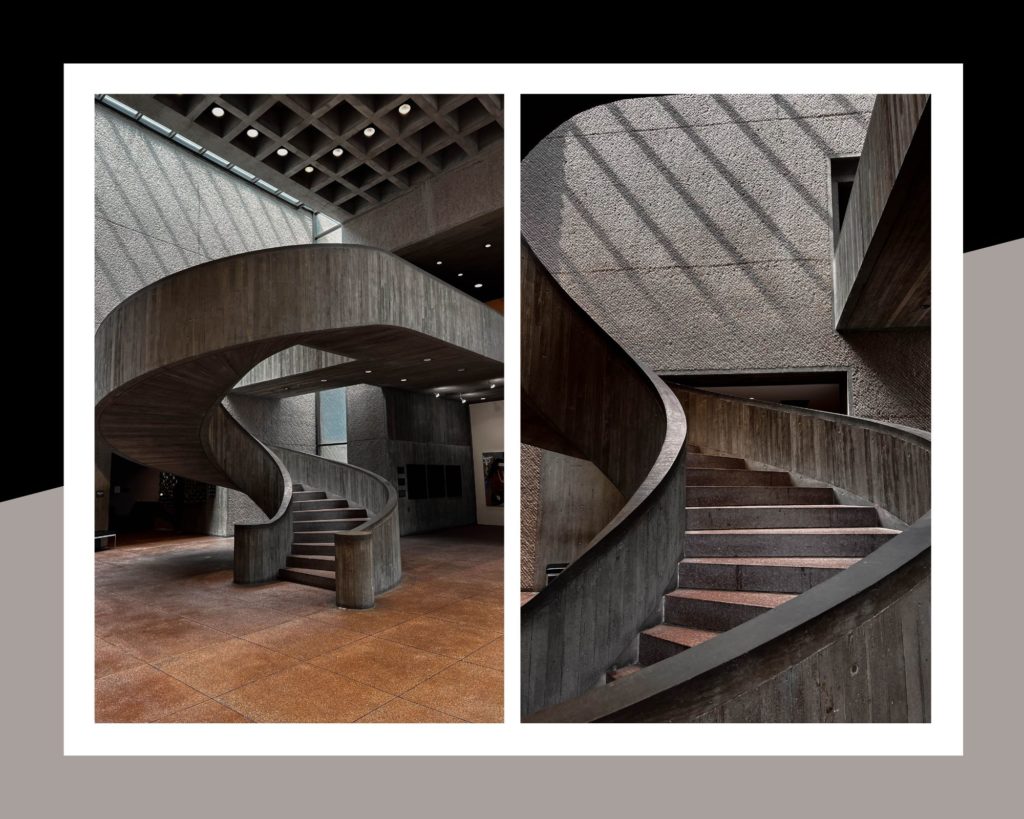 Utica-based sculptor Marc-Anthony Polizzi creates site-specific installations by giving discarded objects a second life. With their jaw-dropping bounty of stuff—from rocking chairs to patio umbrellas to basketball hoops—Polizzi's works are visually playful while carrying a darker message—about the unsustainable demands that unfettered capitalism places on our environment, our communities, and even our mental health.
Like all of Polizzi's installations, Overextended is a portrait of the community within which it was created. Polizzi collected the objects for the installation throughout Central New York, constructing a sculpture that contains the memories and experiences of regional residents. Yet the installation is more than a portrait of those living in Central New York. While the objects used were sourced locally, the experiences of overstimulation and overextension are universal. The orange of Overextended was inspired not by the athletic teams that drive our own local economy, but by the colors that drifting smoke from Canadian wildfires brought to New York's skies this summer.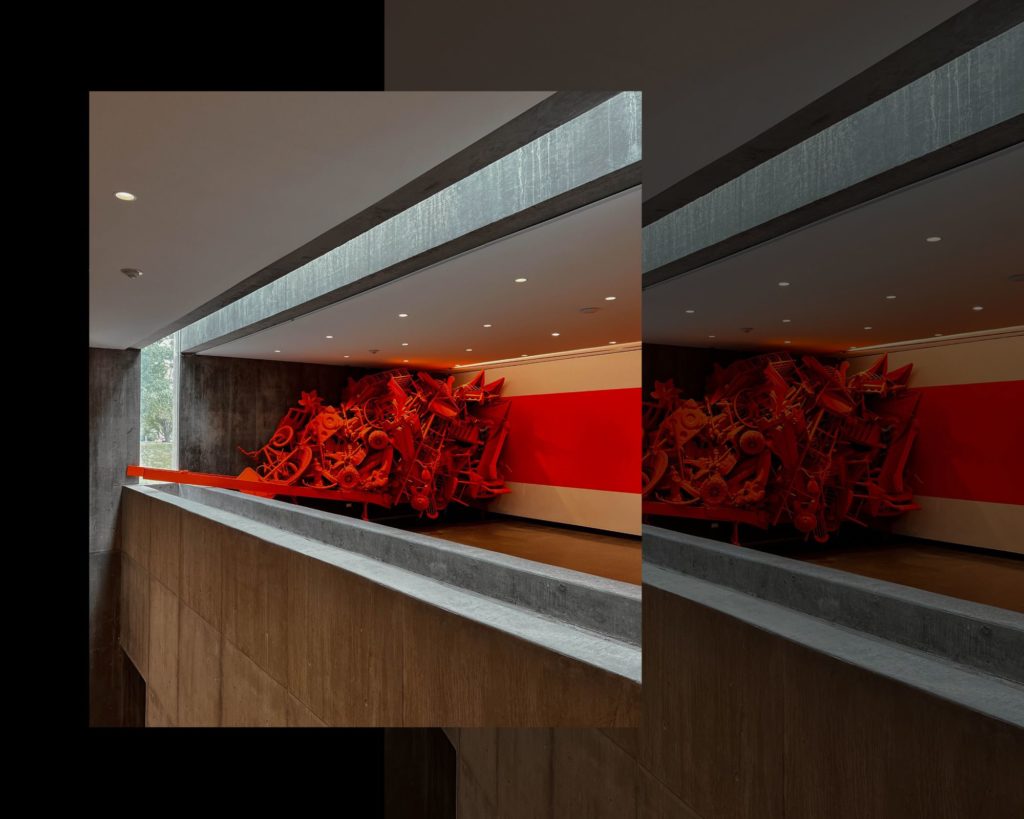 Painter Frank Buffalo Hyde grew up in the Onondaga Nation, where he absorbed much of the pop culture that is still central to his worldview. Throughout his career, Buffalo Hyde has presented "pop" iconography like UFOs, hamburgers, and corporate logos in parallel with Native symbology like the bison on the Onondaga reservation and Indigenous leaders and dancers.
Buffalo Hyde's works grab attention through their bright colors and instantly recognizable iconography, but resist easy stereotyping through their embedded messages about the fragmented nature of Native life.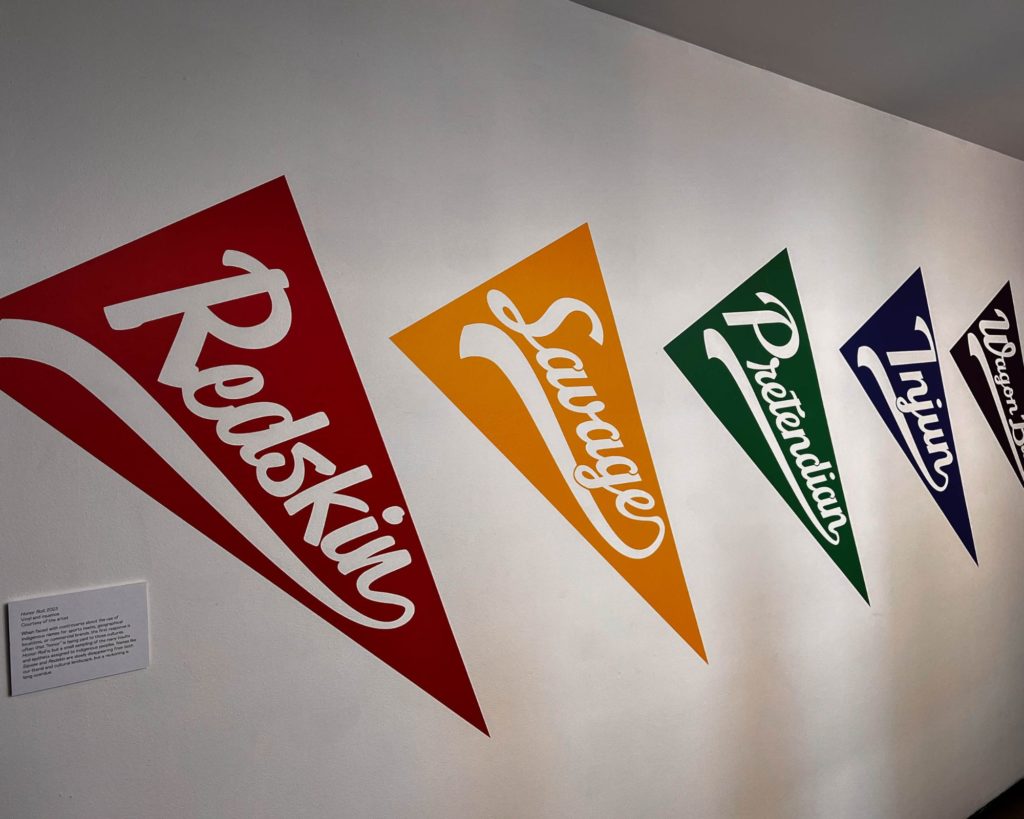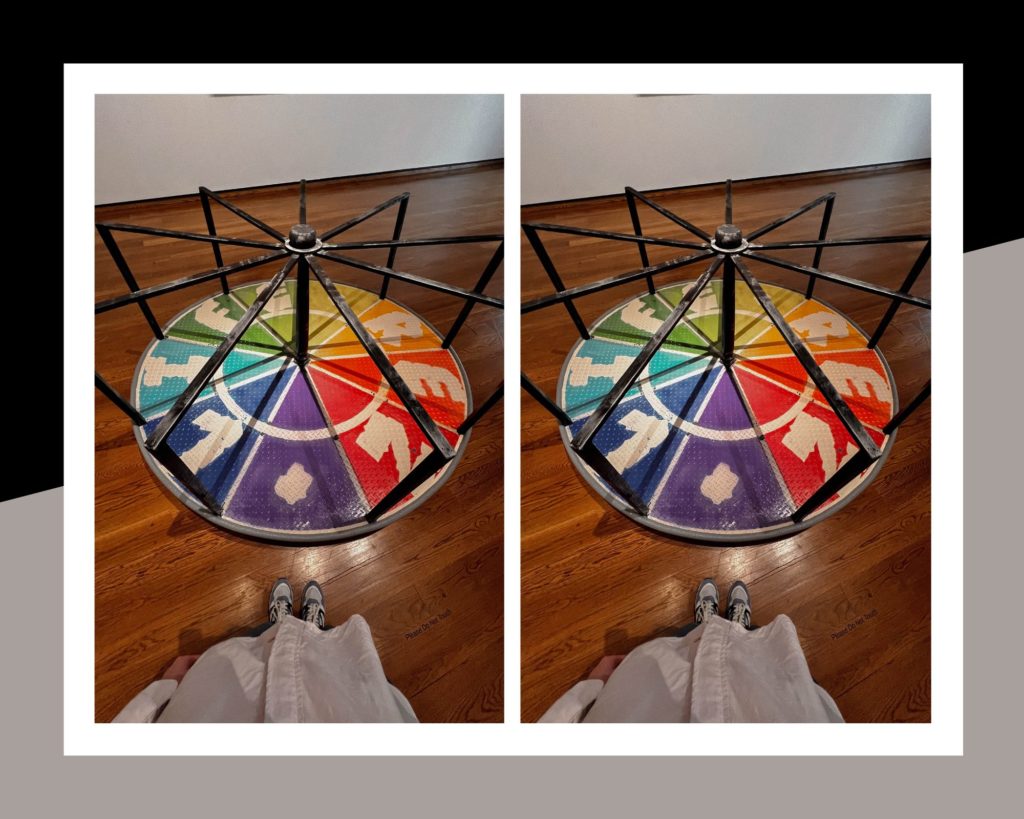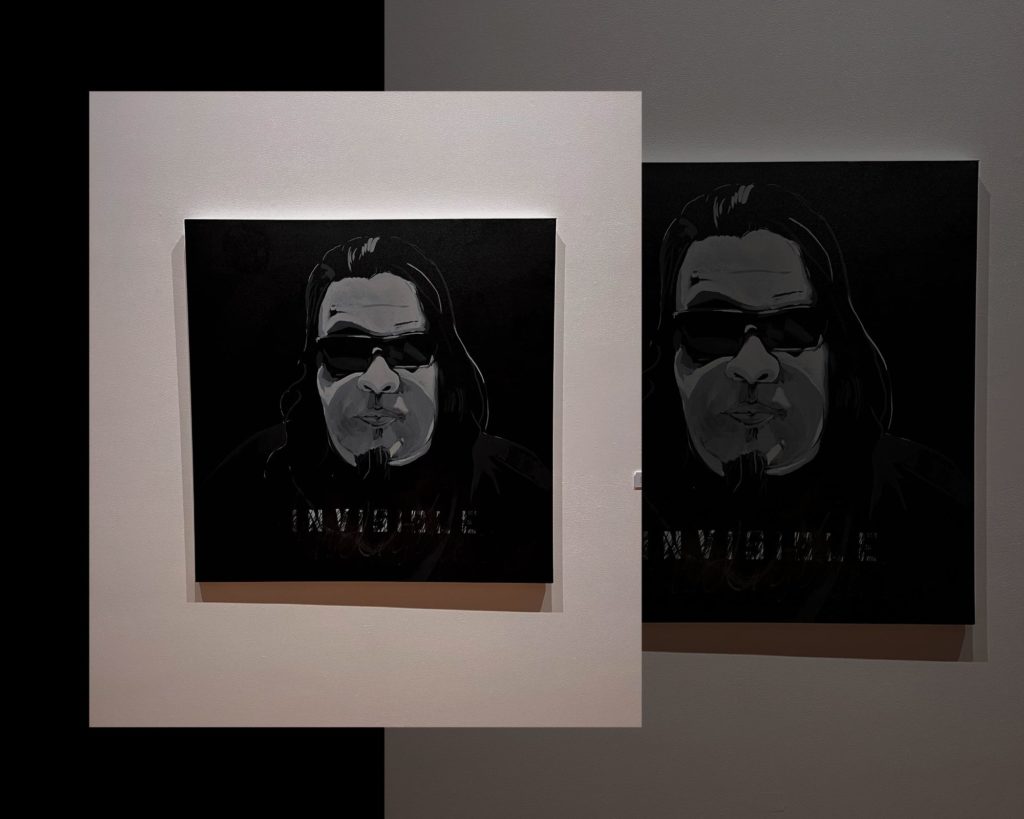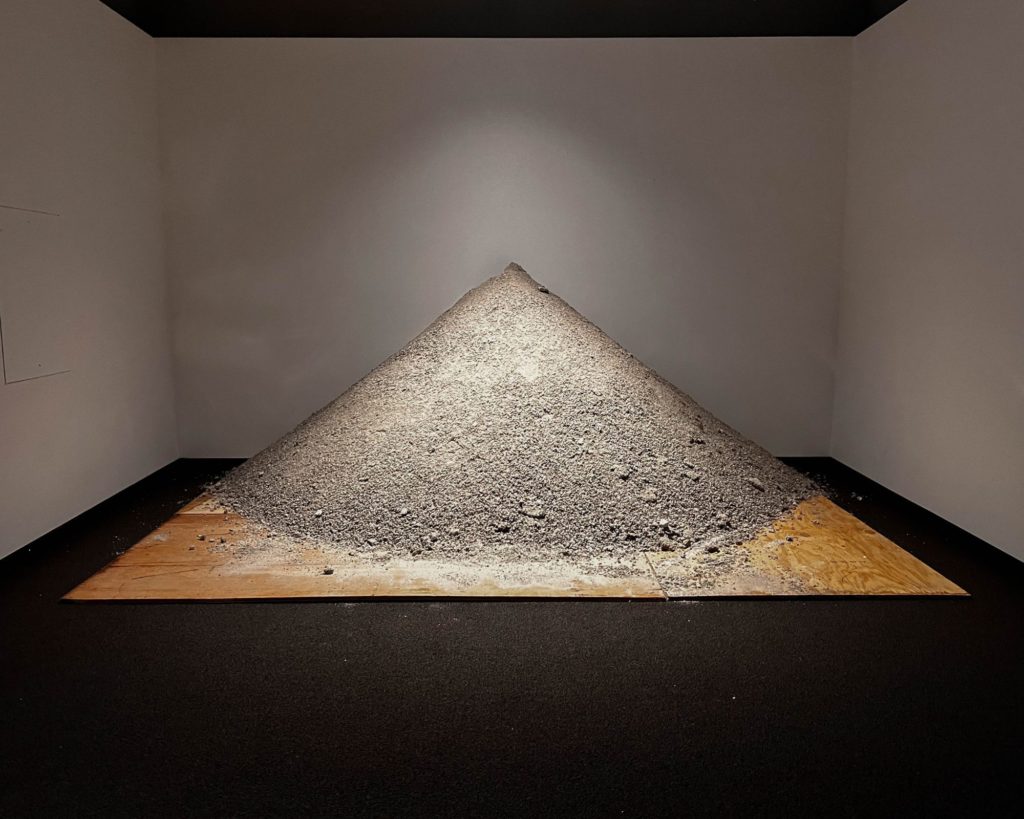 Derek Porter is a multi-disciplinary designer working in architectural lighting and product design,where he focuses on the use of light within various scales of the built environment. His work considers subtle aspects of human perception and the presence of light within spatial contexts.
The Everson is thrilled to have a brilliant installation by Derek Porter titled Faceted Wrap transform our Kilburg Family Staircase into a brilliant, light-filled space.
Thousands of individually oriented mirrored reflectors capture isolated moments of the surrounding scene and fragment them into abstracted pixels of color and light, collapsing recognizable relationships of the interior and human movement into a provocative kaleidoscope of dynamic pattern. The familiar is recontextualized for the viewer to provoke curiosity and new awareness of place.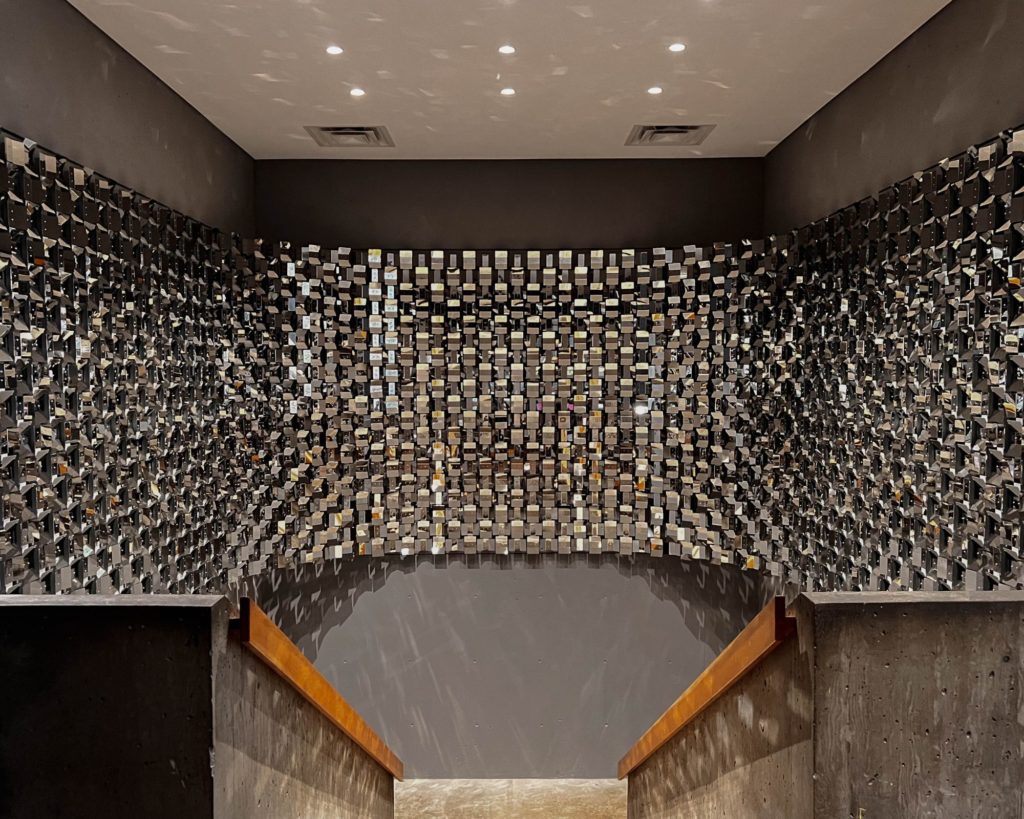 In 1932, Syracuse Museum of Fine Art director Anna Olmsted created a modest juried exhibition of studio ceramics by artists in New York State to honor the late Adelaide Alsop Robineau.Little did Olmsted know that this first exhibition, which was displayed on draped crates provided by a local coffin company, would ultimately prove to be the bedrock upon which the 20th-century Studio Ceramics Movement was built.Response to the first juried exhibition was immediate. Prominent artists lobbied Olmsted to open the exhibition to artists from other states, and the Ceramic Nationals were born.
The Ceramic Nationals purchase prizes in the Everson's collection number more than 200,and tell the story of the birth of the Studio Ceramics Movement in the depths of the Great Depression through its maturation in the 1950s, and ultimately, to the early 1970s, when the field of ceramics splintered into an unwieldy number of factions. Containing early masterworks by seminal artists like Maria Martinez, Peter Voulkos, Maguerite Wildenhain, Minnie Negoro, and Edwin and Mary Scheier, the Ceramic Nationals collection represents the most cohesive collection of American Studio Pottery in existence.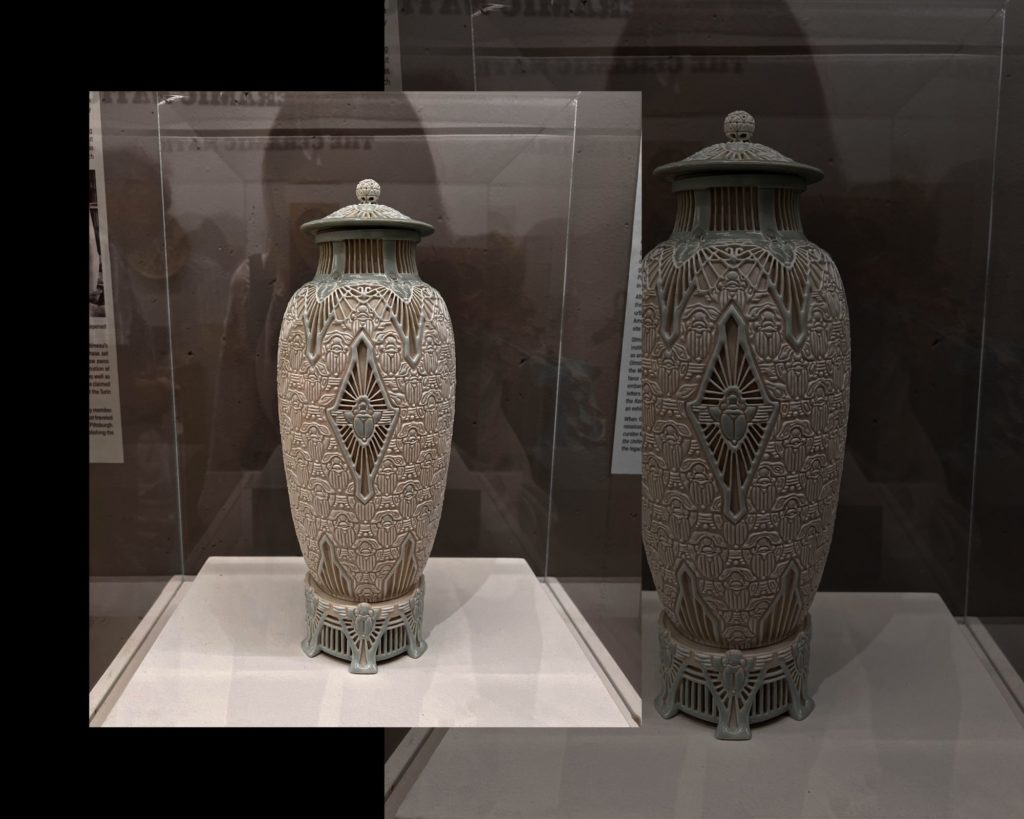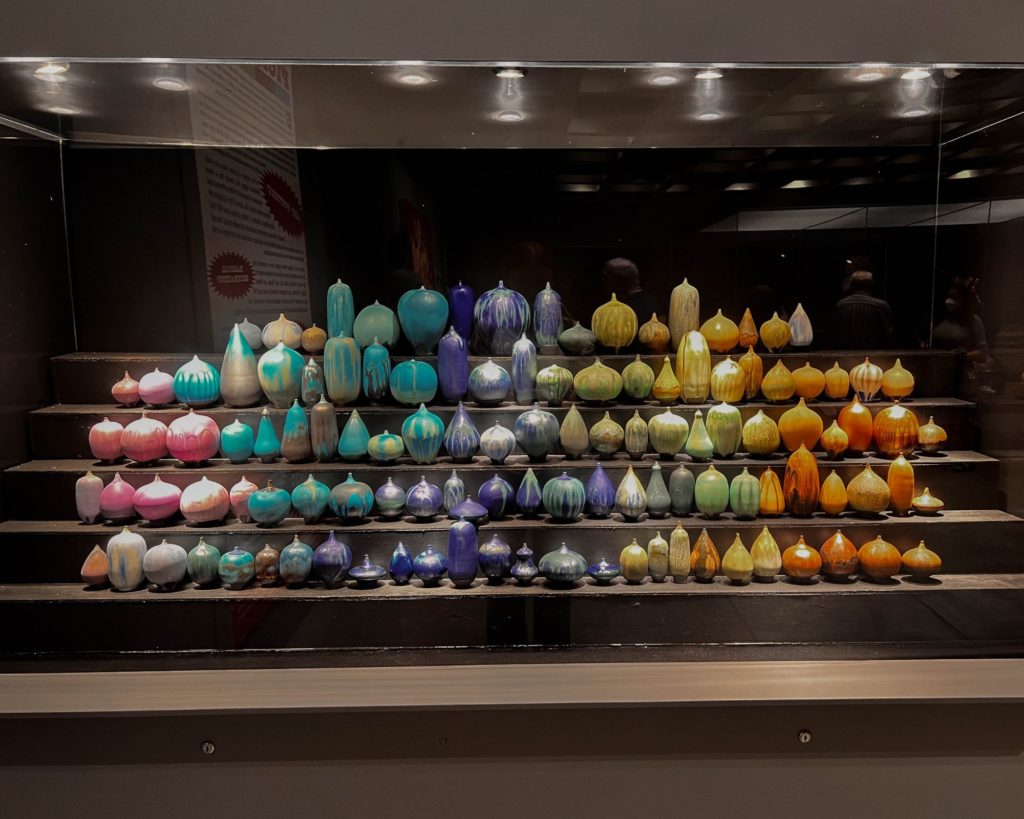 Off the Rack is the happy by-product of a major renovation of the Everson's on-site art storage.
As hundreds of paintings and framed works are displaced from their racks while renovations take place, the public has an unprecedented opportunity to view objects that have been in deep storage for years, never-before-seen recent acquisitions, and some perennial favorites — all hung together salon-style in our exhibition galleries.
This smorgasbord of paintings and works on paper showcases the breadth and depth of the Museum's collections and provides a glimpse into the world of collections management and care.