A tranquil oasis of art and nature, the Lillie and Hugh Roy Cullen Sculpture Garden, Houston, TX showcases masterworks of 20th- and 21st-century sculpture by artists including Louise Bourgeois, Pietro Consagra, Henri Matisse, Joan Miró, Auguste Rodin, and David Smith.
This garden was created by sculptor Isamu Noguchi. "I had a revelation of the earth outdoors as a new way of conceiving sculpture," Noguchi once wrote, and he described his gardens as "sculpture for sculpture." His plan for the Cullen Sculpture Garden was a modern approach to the traditional idea of a garden—framed by concrete walls ranging in height, the works of sculpture are complemented by native trees, bamboo, and flowering crepe myrtle.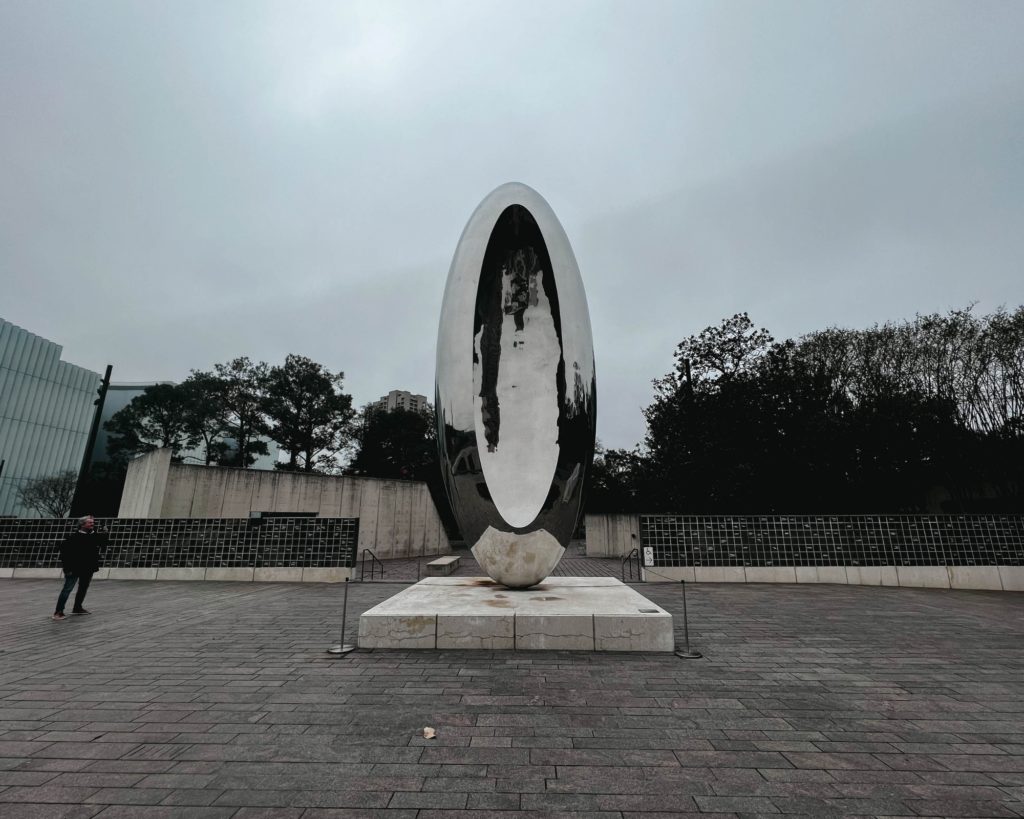 Anish Kapoor, British, born in India 1954, Cloud Column, 1988-2006, Stainless steel
Anish Kapoor's "Cloud Column" stands over two stories tall, gracefully inviting us to contemplate not only the object itself, but also how we position ourselves in relation to the world around us. The highly polished stainless steel surface reflects every nuance of light and at the same time captures the surrounding landscape. The play between the convex and concave surfaces establishes a dual reality, as the elongated core of the sculpture presents the world upside down, bringing the heavens down to earth.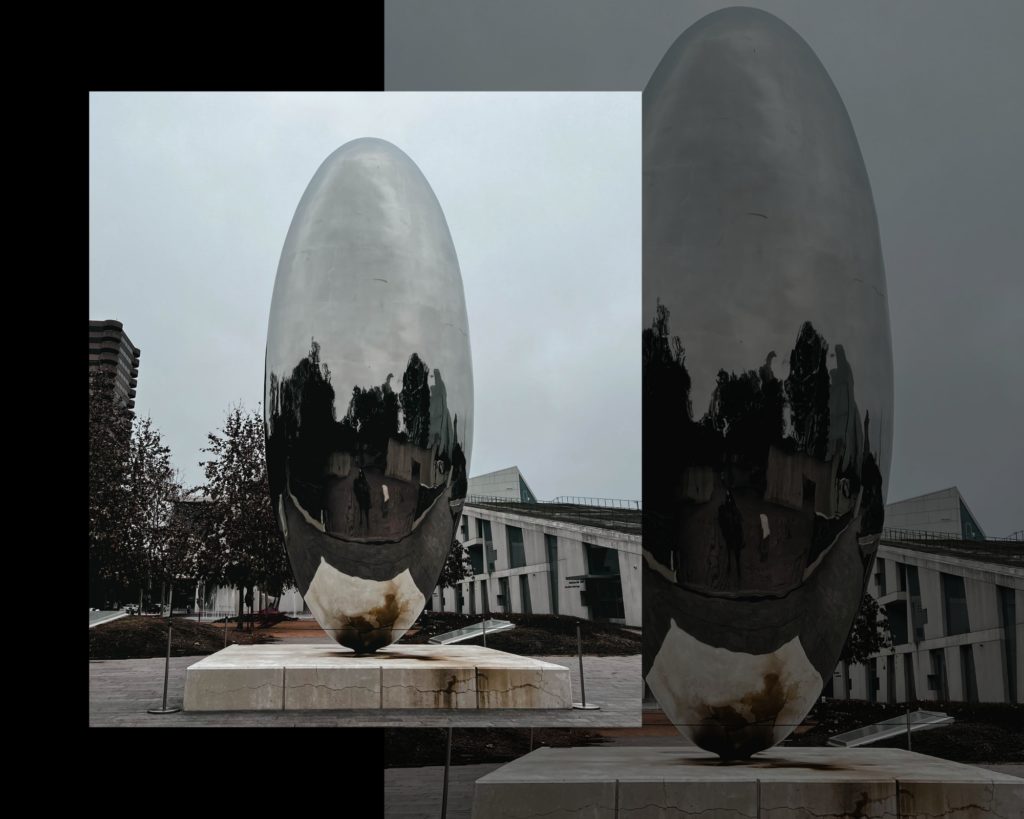 Tony Cragg, English, born 1949, New Forms, 1991-1992, Bronze
New Forms is an outdoor 1991–1992 bronze sculpture by British artist Tony Cragg, installed at the Museum of Fine Arts, Houston's Lillie and Hugh Roy Cullen Sculpture Garden, in the U.S. state of Texas. It was commissioned by the Museum of Fine Arts, Houston and donated by the Schissler Foundation. Cragg continues his investigation of the figure by creating new and exciting ways to render forms through patterns of duplication, nesting, and scaling.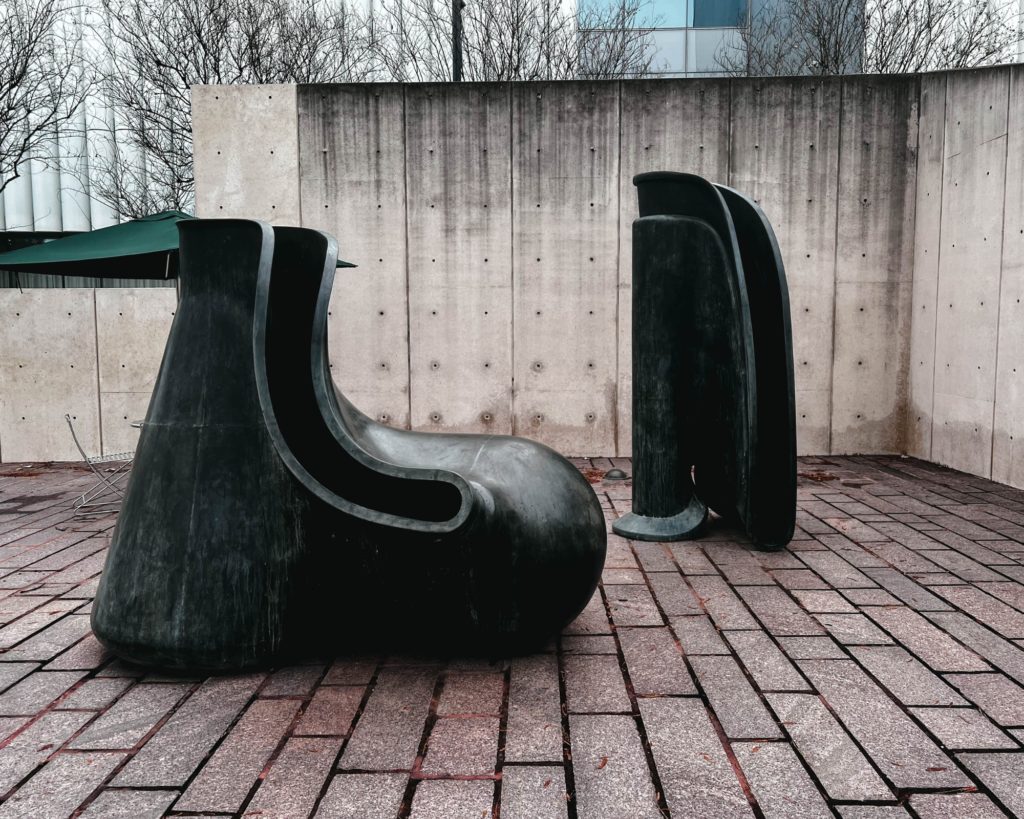 Auguste Rodin, French, 1840-1917, Cybele, modeled c. 1890, enlarged 1904, Bronze
Cybele features a headless woman and the model for this piece was believed to be Anna Abruzzesi, a toned young woman who featured several times in Rodin's career and is widely considered to have been amongst his favourites of all those who posed for him. He would use a combination of professional models and then sometimes he would ask members of the public to sit for him, when he spotted something about them that he thought would suit his sculpture style. Rodin also used the lady's sister on occasion as well. Some have argued that this sculpture was intended as a preparation piece for his famous project, The Gates of Hell, but this has never been confirmed conclusively.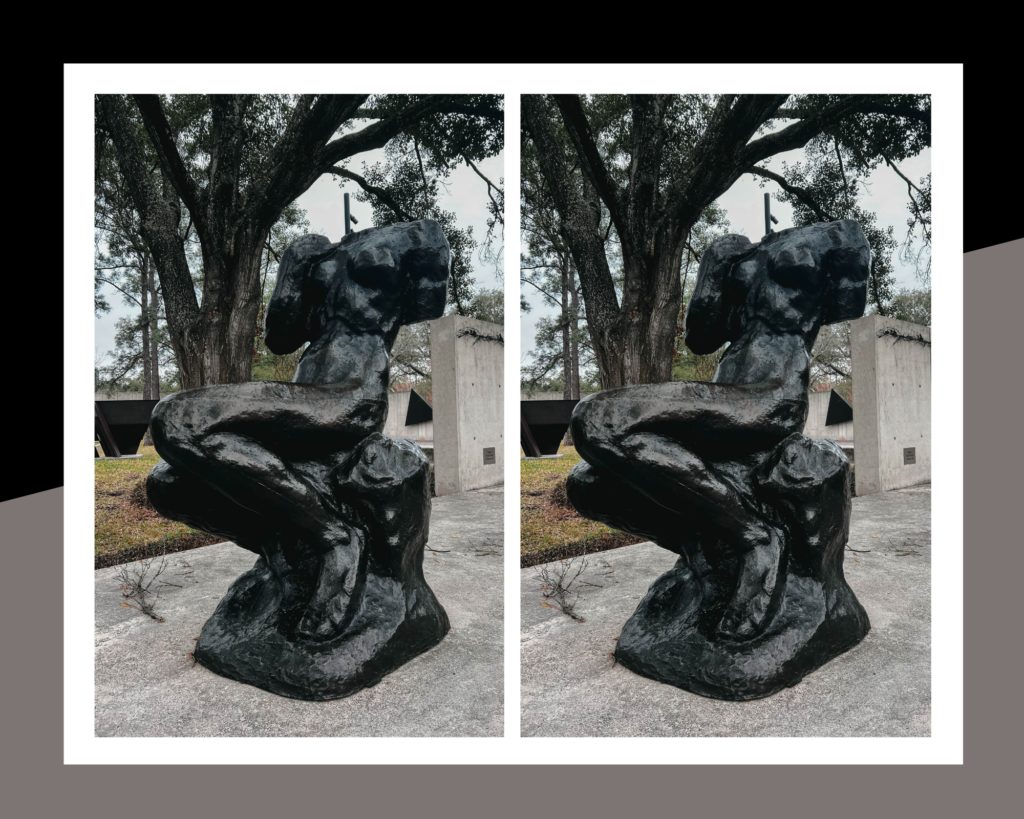 Frank Stella, American, Born 1936, Decanter, 1987, Bronze and Steel
Decanter is made of stainless steel, bronze, and carbon steel, and was purchased using monetary contributions from the Alice Pratt Brown Museum Fund. According to the museum, the piece "offers a exuberant collage of forms which bursts out into space"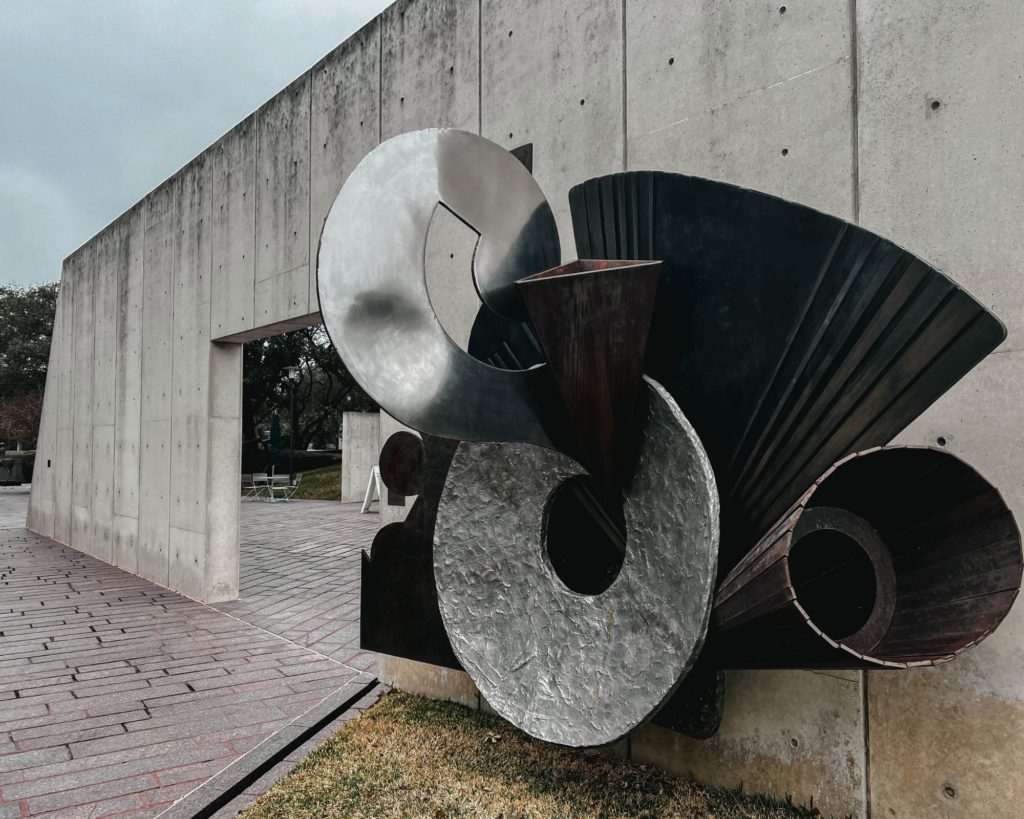 Pietro Consagra, Italian, 1920-2005, Conversation with the Wind, 1962, Steel
Conversation with the Wind (Colloquio col Vento), or simply Conversation with the Wind is kinetic steel sculpture by Italian artist Pietro Consagra, installed at the Museum of Fine Arts, Houston. It was exhibited in Spoleto, Italy in 1962, and purchased by MFAH in 1963. According to his daughter, Consagra proposed painting the badly rusted sculpture for restorative purposes.
Auguste Rodin, French, 1840-1917, The Walking Man, 1905, Bronze
One of Rodin's best-known compositions, The Walking Man introduced radical notions of sculptural truncation and assembly into the modern artistic canon. Composed of a fragmented torso attached to legs made for a different figure, the work is neither organically functional nor physically whole. The artist considered it finished because it captured the essence of movement. The collector Elizabeth Robinson commissioned this small-scale cast from the sculptor in Paris. A French inscription on the base reads: "To Madame Nelson Robinson of New York, M. Rodin, happy to see his work The Walking Man represented in her salon, presents his affectionate respects to her."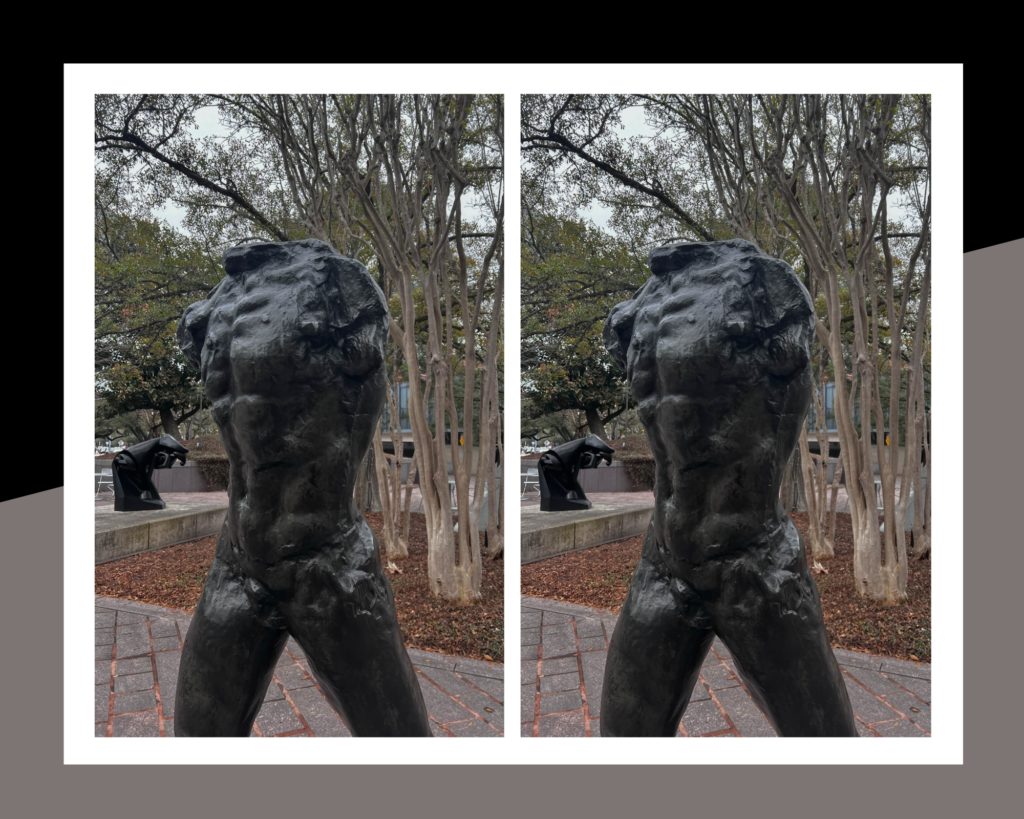 Dewitt Godfrey, American, born 1960, Untitled, 1989, Welded Steel
DeWitt Godfrey is a large-scale sculptor working in Hamilton, NY.  His work employs carefully conceived structural processes, combining cutting edge digital technologies with custom craftsmanship, all grounded in empirical knowledge and experimentation.  Natural geometries and systems – plant spores, seashells, honeycombs – inspire his sculptures; and through his unique process of packing and stacking of conic and cylindrical steel forms, simple rules give rise to extraordinary complexity.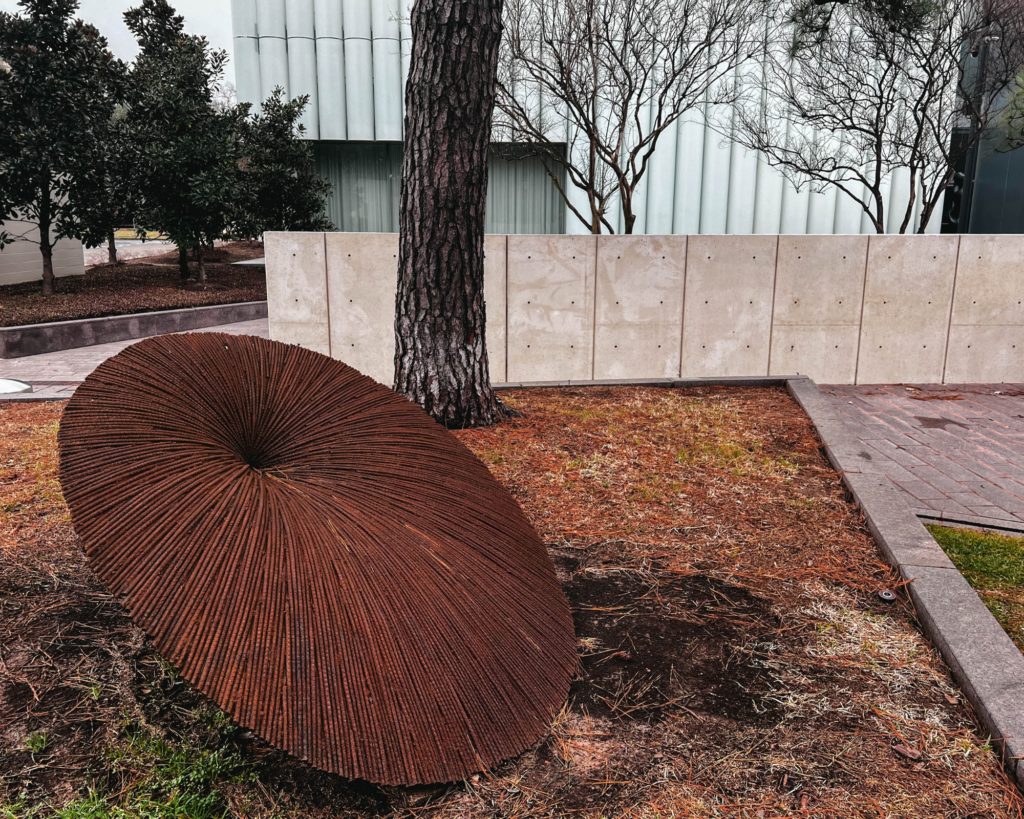 Jean Miró, Spanish, 1893-1983, (Oiseau) Bird, 1968, Bronze
Oiseau, ​like the other work by Joan Miró in Jeddah, Project for a Monument,​ was cast at the Fonderia Bonvicini in Verona in 1981. when the artist was eighty­ seven. Oiseau is based on a 1968 sheet­ iron sculpture also called O​iseau, ​which once surmounted a column above the roof of the Fondation Maeght in Saint­Paul de Vence in southern France.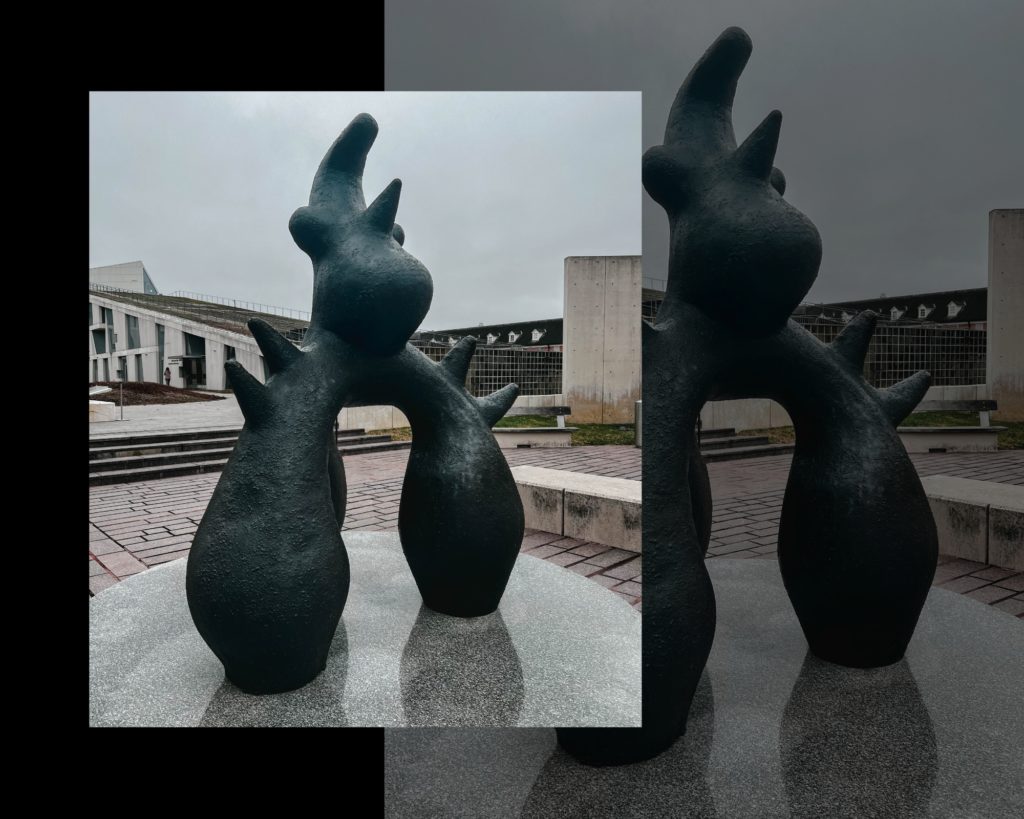 Lucio Fontana, Italian, Born Argentina, 1899-1968, Spatial Concept/Nature No. 1, 1965, Bronze
Nature is one of a series of works made by cutting a gash across a sphere of terracotta clay, which Fontana subsequently cast in bronze. He believed that the incision was a 'vital sign', signalling 'a desire to make the inert material live'. Fontana was concerned with transformation, and the shifting, yet indestructible density of matter. The Nature series was partly inspired by thoughts of the 'atrocious unnerving silence' awaiting man in space, and the need to leave a 'living sign' of the artist's presence.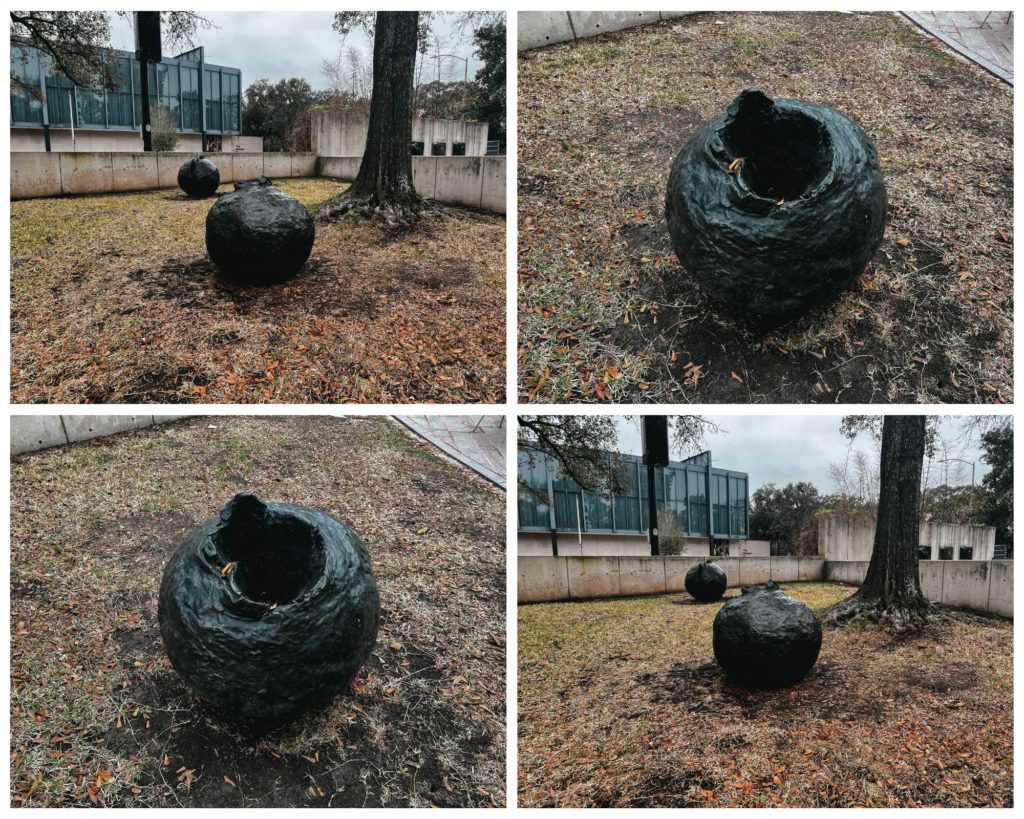 Aristide Maillol, French, 1861-1944, La Rivière (The River), 1938-1943, Bronze
In 1938, Aristide Maillol embarked on an ambitious commission which ultimately became "La Rivière (The River)," his final masterpiece. The unusual pose arose from the original terms of the commission, which was intended to honor Henri Barbusse (1873 – 1935), noted author and pacifist. In keeping with Barbusse's anti-war sentiment, Maillol initially conceived the figure as a woman who had been stabbed in the back, falling at the viewer's feet, arrested in agony. However, when funds proved to be insufficient to complete the memorial, Maillol reconceived the figure as a more timeless theme, the personification of a river.
The model for "La Rivière" was the artist's muse, Dina Vierny. Her son Bertrand Lorquin described the work: "Monumentality does not require to be looked up to, but simply to be looked at. This was a radically new concept of the function of monumental sculpture, for it introduced a new relationship between the statue and the viewer."