Visiting Chicago for just a few hours but hungry for art? Not a problem! Here are top 10 picks from the Art Insitute of Chicago that will blow your mind. In just one hour, you will be able to see the most iconic paintings, sculptures and art isntallations that will fill your appetite.
Kay Sage, American, 1898-1963, In the Third Sleep, 1944
Kay Sage depicted a large, two-pronged structure resembling drapery, which rises straight up into the air from a ramp or dock that recedes into the distance at right and is punctuated by geometric and curvilinear forms.
The striking canvas suggests the mystifying environs of a dreamscape, reflecting Sage's fascination with the unconscious. In the mid-193os, the artist lived in Paris and worked alongside French Surrealists, including Yves Tanguy, whom she married in 1940 after moving to New York at the outbreak of World War II. Painted in 1944, In the Third Sleep attests to her continued investigation of the otherworldly.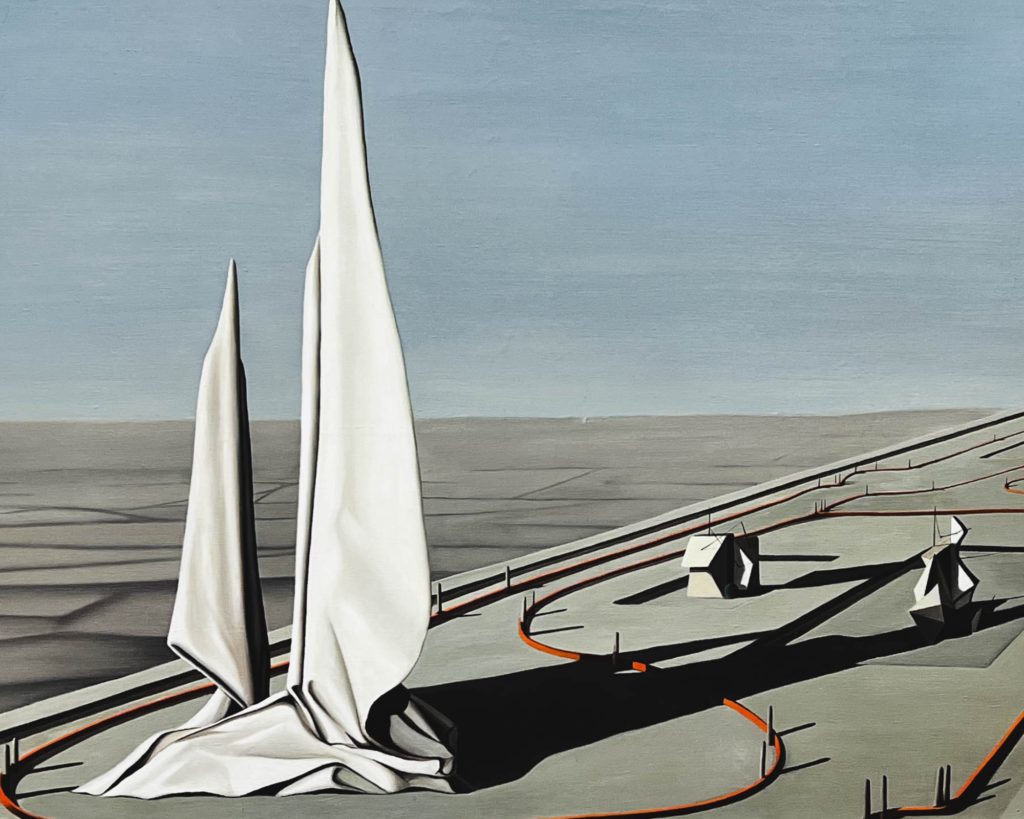 Walter Ufer, American, born Germany, 1876-1936, The Solemn Pledge: Taos Indians, 1916
In The Solemn Pledge, Walter Ufer portrayed three generations of Native Americans, combining a bright, saturated palette with sensitively modeled figures. The white robes worn by the boy and two of the men suggest that the group is considering pledging the boy to kiva instruction, a Pueblo tradition of education in ceremonial practices, history, and language. The painting's subject alludes to the necessary deliberation among early 2oth-century Native communities about holding fast to traditions amid governmental assimilation efforts, an issue with ongoing relevance.
Ufer, who trained at the School of the Art Institute of Chicago and in Munich, was an active member by 1917 of the Taos Society of Artists, a group of white artists dedicated to painting the region's people and landscape.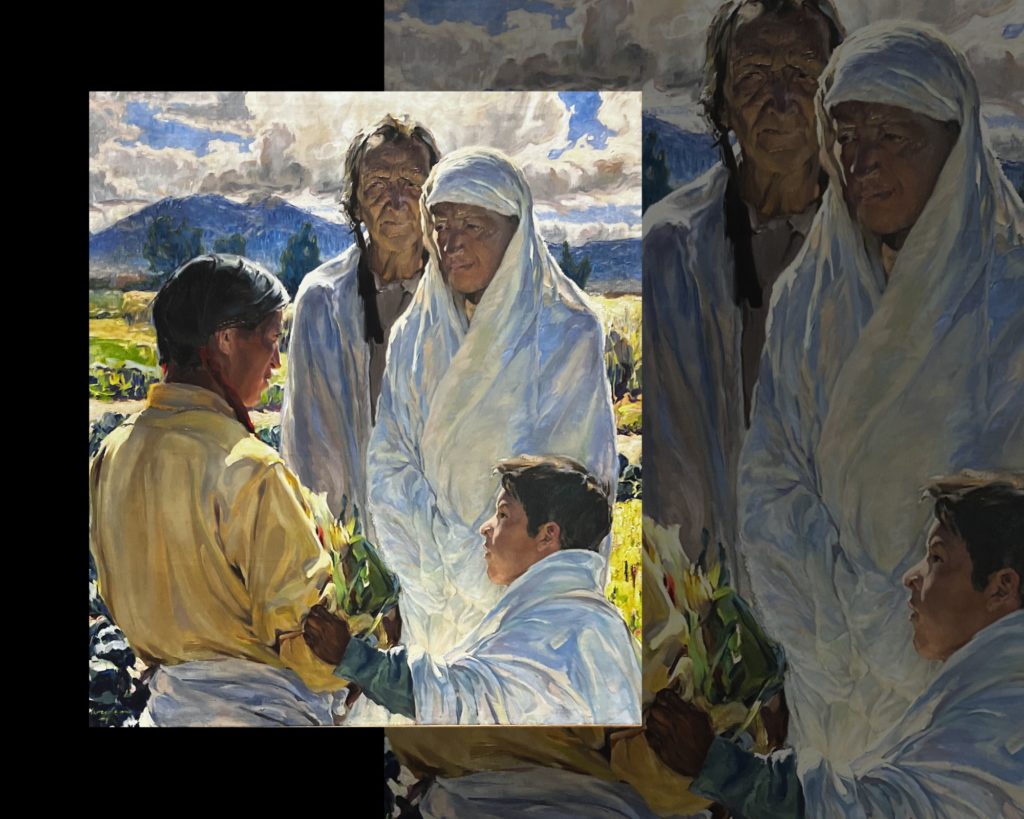 Salvador Dalí, Spanish, 1904-1989, Venus de Milo with Drawers, 1936
Among Salvador Dalf's many memorable works, perhaps none is more deeply embedded in the popular imagination than Venus de Milo with Drawers, a half-size plaster reproduction of the famous marble (I30-120 BC; Musée du Louvre, Paris), altered with pompon-decorated drawers.
The combination of cool painted plaster and silky mink tufts illustrates the Surrealist interest in combining different elements to spark a new reality. Influenced by psychoanalyst Sigmund Freud, Dali first explored transforming a cabinet into a female figure, which he called an "anthropomorphic cabinet." Venus de Milo with Drawers is the culmination of the artist's investigations into the deep, psychological mysteries of sexual desire, symbolized in the figure of the ancient goddess of love.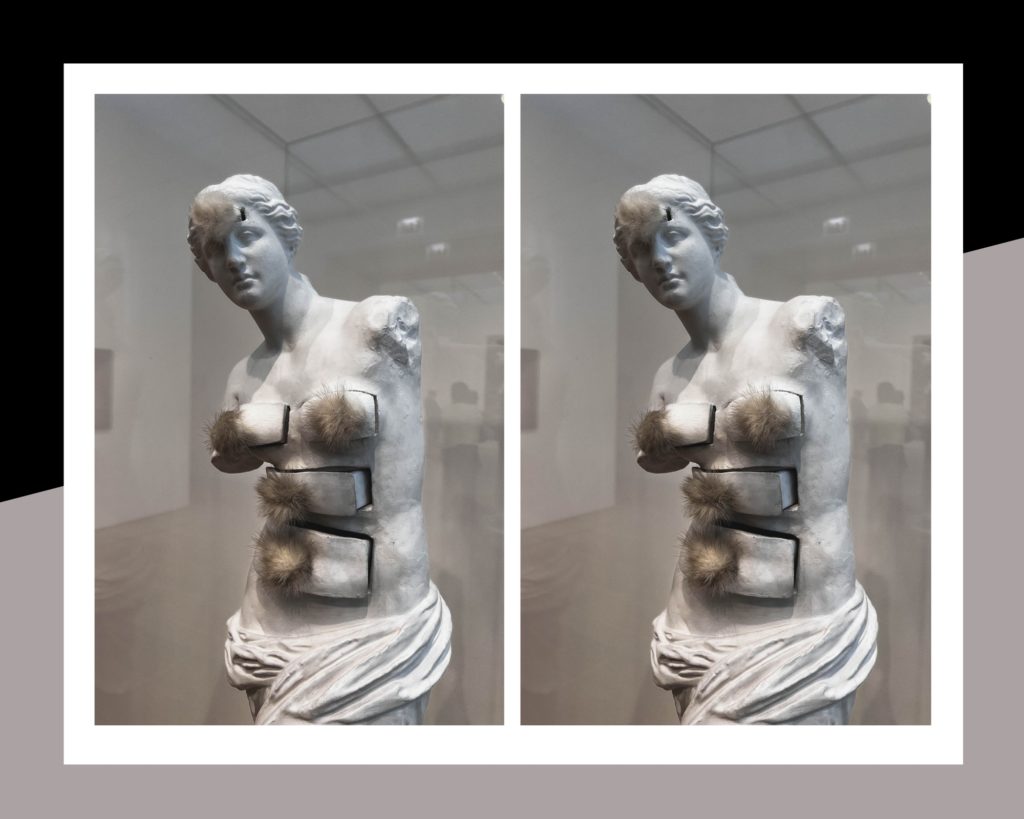 Georges Seurat, French, 1859-1891, A Sunday on La Grande Jatte, 1884
In his best-known and largest painting, Georges Seurat depicted people from different social classes strolling and relaxing in a park just west of Paris on La Grande Jatte, an island in the Seine River. Although he took his subject from modern life, Seurat sought to evoke the sense of timelessness associated with ancient art, especially Egyptian and Greek sculpture. He once wrote, "I want to make modern people, in their essential traits, move about as they do on those friezes, and place them on canvases organized by harmonies of color."
Seurat painted A Sunday on La Grande Jatte—1884 using pointillism, a highly systematic and scientific technique based on the hypothesis that closely positioned points of pure color mix together in the viewer's eye. He began work on the canvas in 1884 (and included this date in the title) with a layer of small, horizontal brushstrokes in complementary colors. He next added a series of dots that coalesce into solid and luminous forms when seen from a distance. Sometime before 1889 Seurat added a border of blue, orange, and red dots that provide a visual transition between the painting's interior and the specially designed white frame.
Vincent van Gogh, Dutch, 1853-1890, Self-Portrait, 1887
The intense colors and energetic brushwork of this self-portrait may hint at the artist's turbulent inner life.
Vincent van Gogh suffered from bouts of depression and anxiety and came to painting after struggling to find professional footing as a pastor, teacher, and art dealer. In selecting the palette for this work, he followed Neo-Impressionist color theory, which held that color opposites, such as blue and yellow or red and green, create a vibrating optical effect when laid down next to each other. But what for other artists was a method based on the cool objectivity of science became in Van Gogh's hands an emotional language. Here, the blue-green of the background sets off the orange-red of the artist's hair and beard, bringing focus to his arresting expression.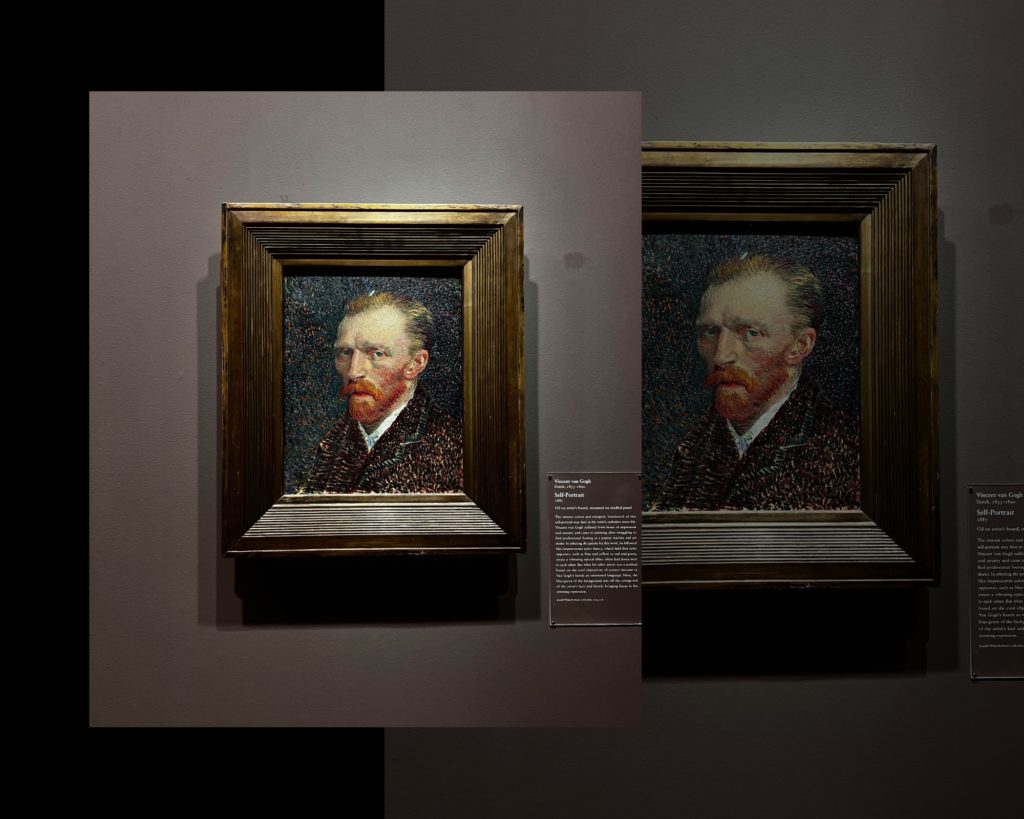 Georgia O'Keeffe, American, 1887–1986, Sky above Clouds IV, 1965
Painted in the summer of 1965, when Georgia O'Keeffe was 77 years old, this monumental work culminates a series inspired by the artist's experiences as an airplane passenger during the 1950s. Working in Abiquiu, New Mexico, O'Keeffe began around 1963 to capture the endless expanses of clouds she had observed from airplane windows during trips all over the world. Beginning with a relatively realistic depiction of small white clouds on a three-by-four-foot canvas, she progressed to more stylized images of the motif on larger surfaces. O'Keeffe wrote:
I painted a painting eight feet high and twenty-four feet wide—it kept me working every minute from six a.m. till eight or nine at night as I had to be finished before it was cold—I worked in the garage and it had no heat—Such a size is of course ridiculous but I had it in my head as something I wanted to do for a couple of years.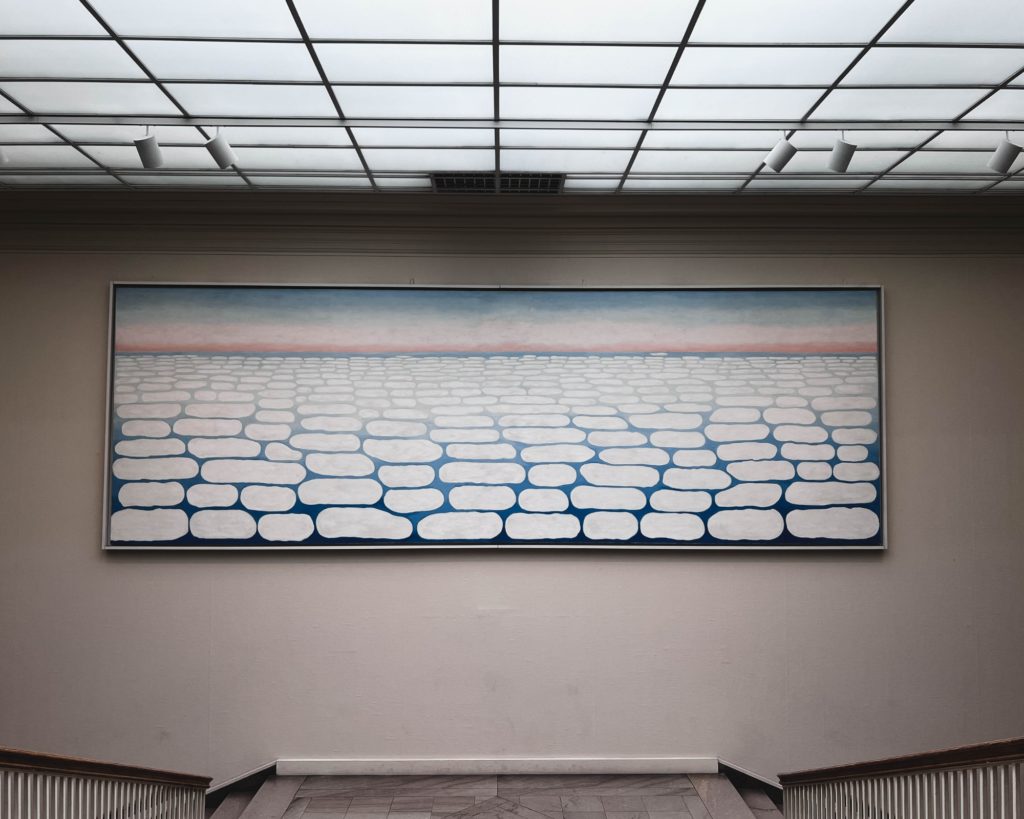 Beauford Delaney, American, 1901-1979, Self-Portrait, 1944
Beauford Delaney offered a penetrating, uncompromising view of himself in this self-portrait. The artist used bold, thick strokes of paint in bright colors to render a portrayal of vibrant yet haunting intensity seemingly capturing his psyche as well as his appearance which could allude to his struggle for personal and public acceptance as a gay black man.
The son of a Tennessee preacher, Delaney studied art in Boston before settling in 1929 in New York, where he befriended artists such as Georgia O'Keeffe and Jackson Pollock as well as writer James Baldwin, with whom he formed an especially deep, intellectual relationship of mutual inspiration and mentorship.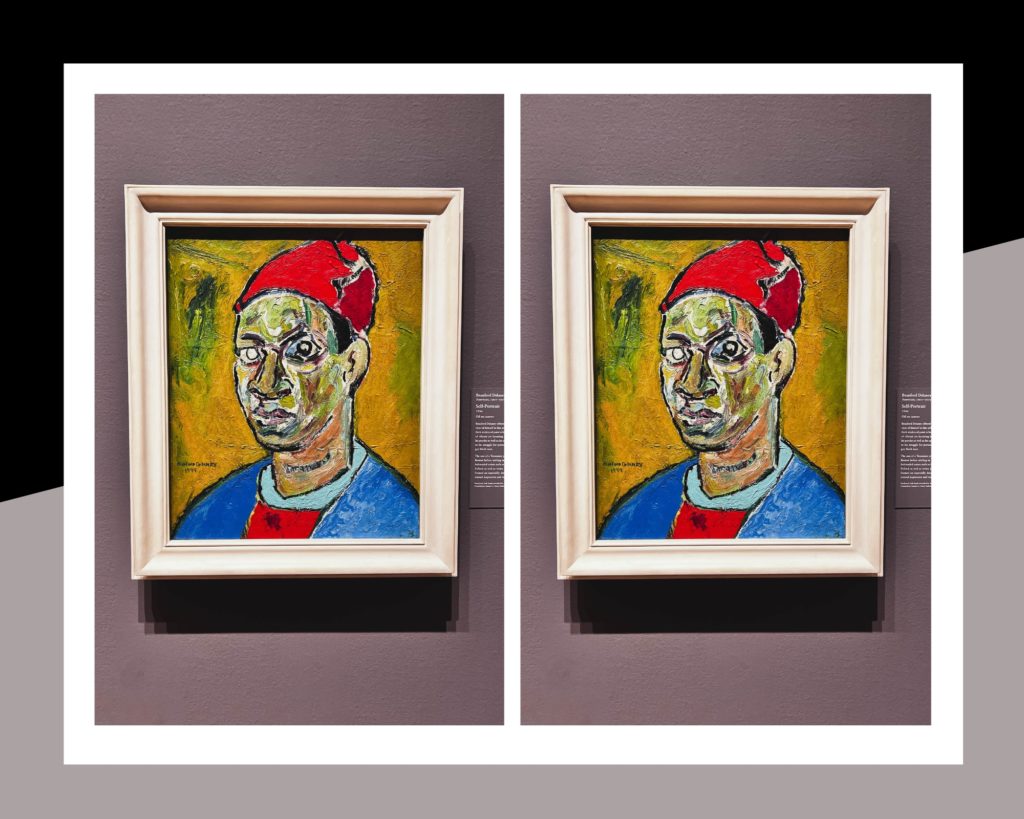 Edward Hopper, American, 1882-1967, Nighthawks, 1942
About Nighthawks Edward Hopper recollected, "uncon-sciously, probably, I was painting the loneliness of a large city." In an all-night diner, three customers sit at the counter opposite a server, each appear to be lost in thought and disengaged from one another. The composition is tightly organized and spare in details: there is no entrance to the establishment, no debris on the streets. Through harmonious geometric forms and the glow of the diner's electric lighting, Hopper created a serene, beautiful, yet enigmatic scene. Although inspired by a restaurant Hopper had seen on Greenwich Avenue in New York, the painting is not a realistic transcription of an actual place.
Design attributed to Agnes F. Northrop, American, 1857–1953, Tiffany Studios, Hartwell Memorial Window, 1917
More than 100 years ago, Agnes F. Northrop designed the window for Tiffany Studios as a commission from Mary Hartwell in honor of her husband, Frederick Hartwell, for the Central Baptist Church of Providence, Rhode Island (now Community Church of Providence). It remained housed in the sanctuary of the church until 2018, when the congregation decided to relocate the window to the Art Institute of Chicago, where it could be conserved to ensure its long-term stability and remain on public view.
The window is composed of 48 panels that are each made up of different glass types and combinations. Inspired by the view from Frederick Hartwell's family home near Mt. Chocorua in New Hampshire, the majestic scene captures the transitory beauty of nature—the sun setting over a mountain, flowing water, and dappled light dancing through the trees—in an intricate arrangement of vibrantly colored glass.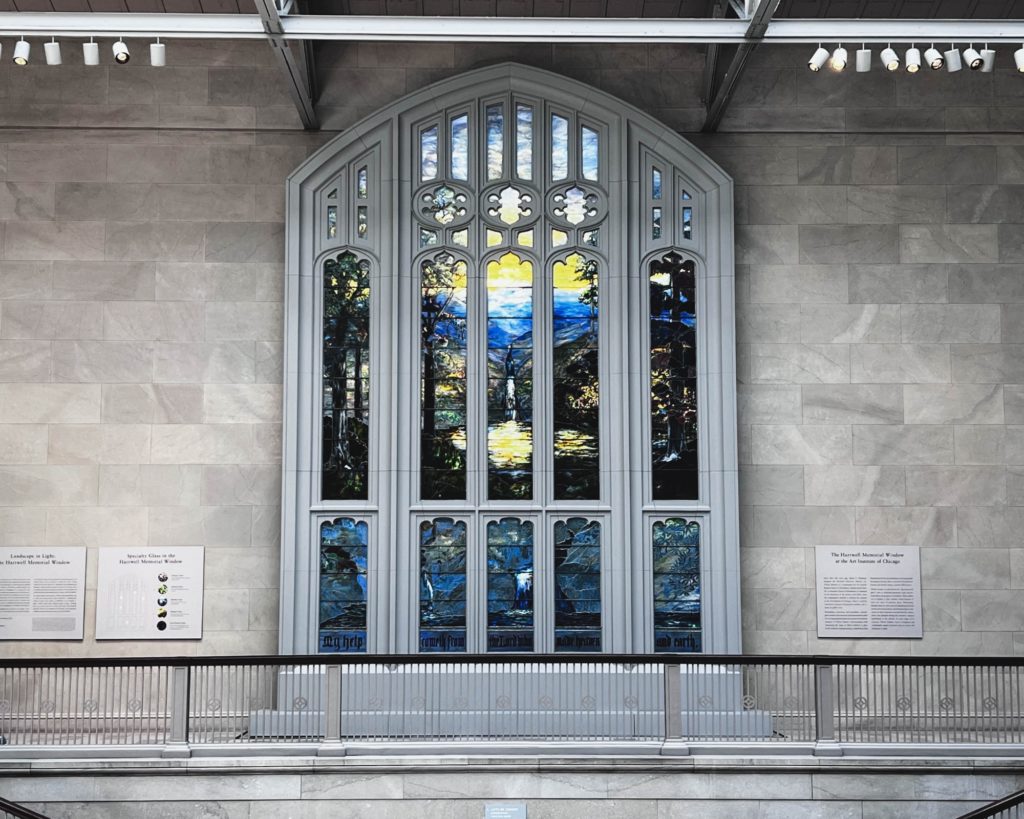 Grant Wood, American, 1891–1942, American Gothic, 1930
In American Gothic, Grant Wood directly evoked images of an earlier generation by featuring a farmer and his daughter posed stiffly and dressed as if they were, as the artist put it, "tintypes from my old family album." They stand outside of their home, built in an 1880s style known as Carpenter Gothic. Wood had seen a similar farmhouse during a visit to Eldon, Iowa.
When it was exhibited at the Art Institute in 1930, the painting became an instant sensation, its ambiguity prompting viewers to speculate about the figures and their story. Many understood the work to be a satirical comment on midwesterners out of step with a modernizing world. Yet Wood intended it to convey a positive image of rural American values, offering a vision of reassurance at the beginning of the Great Depression.